Class Schedules and Registering
For class schedules or questions about registering, check out our training calendar or give us a call at (414) 352-0880.
We offer training classes for dogs of all ages, sizes and temperaments:
Puppy Classes | Beginners Classes | Advanced Classes | Open/Utility Classes
---
Private Consultations
In home and private training is available to solve various behavioral problems like separation anxiety, possessiveness and aggression. Consultations are specifically designed to meet the challenges you and your pet face.
All dogs must be current on Rabies, Dhlpp and Bordetella. Please bring in a copy of your pets immunization to your first class or email them to us at [email protected].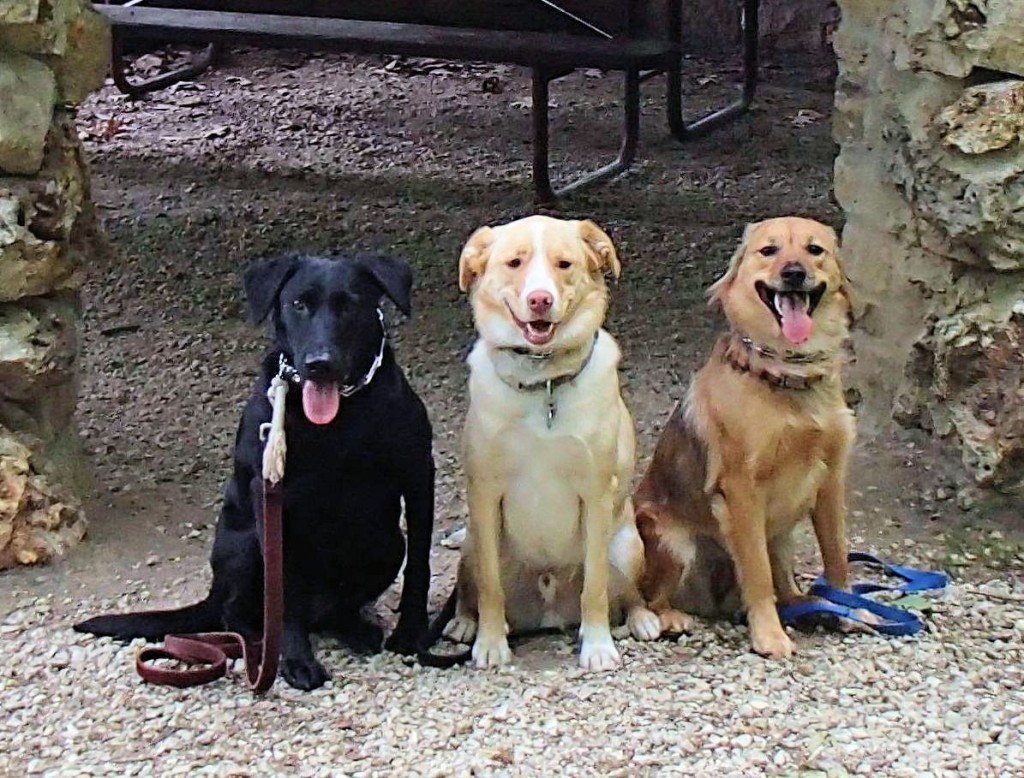 Improve your relationship with your dog. Take leadership and provide consistency and your pet with love and respect you for it.
---
Questions Our Dog Training Classes Will Answer:
1. Will your dogs all sit for a picture?
Trim Time's obedience classes can help you teach your dog to sit and stay quietly for certain periods of time.
Improve your relationship with your dog. Take leadership and provide consistency and your pet with love and respect you for it.
2. Does your dog jump on you and your guests, bark at everyone that walks by your house, take off through the door when you open it or grab food off of your plate when you look away?
Obedience classes will help break bad habits and create new, positive habits that you and your pet can feel good about.
3. Do you dream about having a way to manage your dog's day to day behaviors?
Trim Time's structured lessons will help give pet owners a handle on any tiresome behavior.
There is no time like the present to begin your dog's education. Trim Time offers classes for dogs at every stage of development, from puppies to mature seniors. Training can help with socialization and provide your dog a new confidence. Any dog can benefit from attending classes that challenge their intellect and enhance their personalities.
Class sizes are kept small to offer a quality learning experience for both you and your dog.
We do require all dogs are up to date on vaccinations. You may have your veterinarian clinic email or fax your shot records to us.
OUR GOAL IS TO HELP THE OWNER PRODUCE A CONFIDENT AND OUT-GOING CANINE COMPANION!
---
Puppy Classes (8 to 16 weeks old)
Get started on the right foot. Learn the basics as you socialize your puppy. Begin house-breaking, inhibit jumping, barking and mouthing. We instruct owners on how dogs process information and how to keep your puppy safe while training. Puppy classes provide a basic introduction to control commands like wait, leave it, quiet, sit, down, come, walk nicely on a leash, "leave it" and more.
We train with praise and corrections, but with puppies, it's mostly teach, teach and teach.
Classes are 4 weeks long. Each class is 45 minutes long with time afterwards for questions or problem solving. The cost is $100.00.
---
Beginner Obedience Classes (4 months and up)
This class sets the foundation for a wonderful family companion. We show you how to build a relationship of trust and mutual respect. Control commands like wait, leave it, sit, heel, down, come and stay are emphasized. Young and mature dogs have a capacity to learn quickly and easily. By the end of this 8 weeks, if the trainer has been working with the dog, they will be able to perform all exercises, except when distractions are just to much for their attention span. More distraction training is used in our Advanced class. We do not train with food because it is unreliable. We train with praise and corrections but you must first teach your dog. Any dog will greatly benefit from beginner obedience training. Instructors are available by phone for any questions in between classes.
Classes are 8 weeks long. Each class is about 50 minutes with time for questions after class. The cost is $200.00.
---
Advanced Obedience Classes
(must have completed the beginning class or have consent form the instructor)
Fine tune control commands and begin working on off-leash skills. We train with distractions for all exercises. Hand signals are also introduced to take your dog obedience training to a very high level. The graduation exercise is the test for Canine Good Citizen award. This test is the entry level into Therapy dog.
Classes are 8 weeks long and cost $175.00.
---
---
How to register for training classes
For more information or current updates to the class schedules located in Milwaukee's North Shore area call (414) 352-0880.
---
Our Trainers:
Barbara Theune: WCWCX (Junior and Senior Hunting Titles)
Titles in obedience training.
Barbara has been active 30 years in dog training and 19 years teaching obedience training. Barb has taught kindergarteners and 1st graders in the public school system how not to get bit by a dog.
Barb also trained a dog to act the part of Sandy in the play Annie.
Cheryl Beaudoin: Titled several of her own dogs and has been obedience training for 25 years. Cheryl has been teaching for Trim Time for 5 years.
Call now: (414) 352-0880